&nbsp
Bio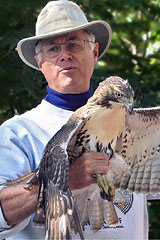 I have always had a keen interest in nature, and particularly in birds. And I can't remember a time when I didn't long to capture photographs of them.
As bird photography brought me closer to the local Naturalist community, I did a stint as President of the local Naturalist club and became involved in the Hawk Cliff Raptor Banding Station. This hawk banding operation on the north shore of Lake Erie is very successful in trapping and banding several thousand hawks each fall. But when I'm trapping hawks there seems to be little time available to photograph them.
This interest also involved me when, in 1996, Peregrine Falcons began to exhibit mating behavior on the office tower where I worked in London, Ontario. After several supporting contacts and lots of persuading, a nest structure was set up on the building. Peregrines have nested here ever since and fledged a number of young. My primary job now is to arrange to band the young birds. And just like at Hawk Cliff, I end up too busy to take photographs. Still, it was a delight to watch a Peregrine cruise by my office window several times each day.
Living in Southern Ontario is helpful, with Point Pelee only a few hours away, and each spring I spend at least a week down there photographing very jumpy little Warblers. Pelee is an amazing place and although Warbler photography is challenging, the experience is always rewarding.
Bird photography has been the focus of all my travels and I concentrate on target-rich areas. I've travelled to Florida, Alabama, Louisiana, Texas, North Dakota, New Jersey, New Mexico, Arizona, Mexico, Newfoundand, and Costa Rica. Florida is incredible because the birds are so tolerant of human presence. But no place can burn film as fast as Bosque del Apache NWR in New Mexico. Since my retirement I have spent several months each winter in the Rio Grande Valley of Texas. My files now reflect my time in this unique area.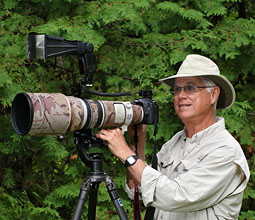 I have a variety of photo equipment, but with my primary focus on birds, the tools I use most are Canonís 500mm f4 IS lens with their 7D MK II body and 580EX flash on a Gitzo CF tripod and a Wimberley gimbal head.
Although birds continue to be what draw me out to photograph, anything in the natural world will pique my interest if there are no birds about to distract me. So along with my extensive files on birds, I have lots of flowers, butterflies, animals and scenics as well.
I share my knowledge of birds and photography with birding clubs, camera clubs and other organizations through presentations, and I also do one-on-one coaching for aspiring bird photographers. Please contact me if you are interested.
My photographs have been used in a number of advertising and editorial publications. And it's a small world. One of my photographs was used for the cover of a birding magazine in Sweden, and I can't read a word of it.
---
Home / Links / Contact me
---
All text and images on this site are copyright Russ Chantler. All rights reserved.

&nbsp